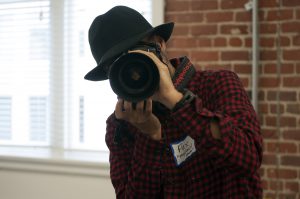 I changed my name to Pax Ahimsa Gethen in August 2013. Many photos, reviews, and testimonials around the web reference my previous name.
I've always been interested in photography, but my passion and skill for the craft increased greatly once I acquired my first digital SLR in 2007. While working as a web and multimedia developer and taking music classes, I found that I had unusually good skill at taking photos without flash in low-light venues such as clubs and concert halls. I made photography my full-time job from 2009 through 2012. I am now no longer taking on clients, but am continuing to shoot and license photos.
I was the official photographer of the Blue Bear School of Music, covering many of their events from 2007 to 2012. My work has also been featured on the cover of the Indie Bible (2010 edition) and in West Coast Performer and 7 x 7 magazines. I also have a large collection of photos from rallies for same-sex marriage equality in San Francisco.
My kit currently includes a Canon 5D Mark II
, a Canon 40D
, a Canon 580EX II Flash
(used sparingly), and the following lenses (I rent additional gear as necessary):
Zooms:
24-70mm f/2.8L
(Canon), 70-200mm f/2.8L (Canon), 17-55mm f/2.8
(Canon), 50-150mm f/2.8
(Sigma)
Primes:
50mm f/1.4
(Canon), 85mm f/1.8
(Canon)
Other places to find me on the web:
I also host a personal web site at funcrunch.org .