Yelp and social activism
Today I learned that a bride-to-be was discriminated against in a New Jersey bridal shop on the basis of her sexual orientation. As a result, the shop's Yelp profile is taking quite a beating, with hundreds of angry one-star reviews, countered by some five-star reviews and Bible quotes. It is clear that the majority of those commenting are not actual customers of the shop, so Yelp is filtering many of these reviews out. And herein lies the dilemma.
As any cursory review of my web site will reveal, I am a strong supporter of marriage equality. I have attended and photographed numerous rallies protesting Proposition 8 in California, the law which prohibits same-sex couples here from marrying the partner of their choice, as our above bride-to-be plans to do legally in New York. So I am unquestionably on the side of all who decry the bigoted, narrow-minded, and possibly illegal actions of a shopkeeper who would turn away a potential customer based solely on the fact that she is a lesbian.
However, I do feel that Yelp is far more useful when the business reviews are left by actual customers. It is impossible for Yelp to determine this for sure, of course, and my own business page has had more than one legitimate customer review filtered out for no reason I can tell, which is very frustrating. But in this case, it is quite clear that the majority of the reviewers are reacting to what they have heard second- or third-hand, and not to their actual experience in visiting this business.
I remember a similar (but much smaller) ratings storm happening about a year ago, when it was revealed that a Georgia-based photographer was using stolen images from other photographers on her business web site. She was deservedly trashed on the Groupon page where she was offering a special, and in numerous discussion forums, in addition to Yelp, but most of those commenting on her Yelp profile were reacting to these reports and not to their experience with the service. And of course there are many other examples, of lesser and greater significance.
The problem with - and probable intention of - leaving one- and five-star reviews just to make a point is that many people won't look beyond the star rating when considering a service or product. In both of the above cases, perhaps the judgment is justified. But it still makes Yelp a less useful service overall. Amazon does not appear to filter or screen its reviews to this extent, and I often have to read the comments carefully (a good idea in any case) to see if the one- and five-star reviews are really legit. xkcd has a funny illustration of this point: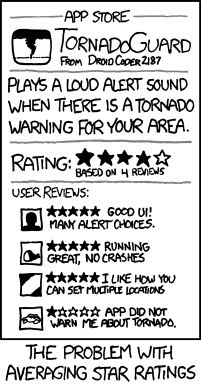 I feel those disgruntled with a service provider but not actually customers of said provider should absolutely speak their opinions, but perhaps blogging or leaving comments on news articles about the incident would be a more appropriate place.
7
August 21, 2011